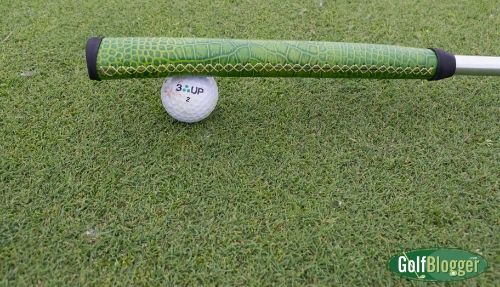 Ace of Clubs Augusta Putter Grip
Grade: B+
Teacher's Comments: A great look and fit, but it may be a bit slippery for some.
Ace of Clubs makes an unusual line of leather putter grips designed to imitate the skins of exotic animals: crocodile, snake, ostrich and python in a variety of striking colors. Players with these grips will certainly attract notice on the course.
The putter grip that I was sent for review is the green Augusta Alligator Stitchback. It is well-constructed, and has now stood up to a great many rounds with no sign of wear. I love the look.
The Augusta Alligator grip weighs in at 80 grams, which is 10 to 20 grams heavier than a standard pistol putter grip. For me, that works well, since I like counter-balanced putter. I think having more weight at the back takes the wrist out of the stroke.
As the name suggests (and the photo above shows), the reverse side of the grip has a pronounced stitch. It feels good in the fingers and actually works a bit like those alignment ridges on certain models of round grips for irons and woods. However, that makes it imperative that
The one downside to Augusta Alligator Grip is that it is slick. I don't mind the feel, but others' preferences may be different. At first I thought the slick feel would wear off, but as I noted before, the grip is quite durable.
I take my putting very seriously, for without a great putting game, I would be a thirty handicapper instead of a fourteen. The fact this grip is still on my putter after several months speaks to how much I like it.