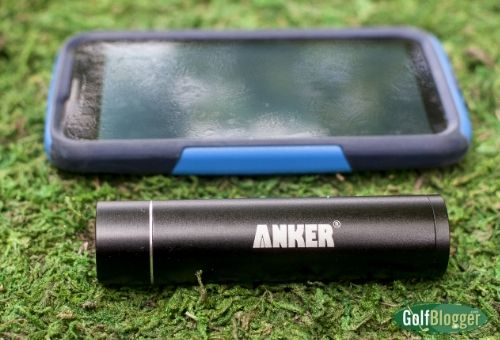 Anker® Astro Mini 3000mAh Ultra-Compact Portable Charger
Grade: A
Teacher's Comments: Very handy
Here's a problem that only exists in the western world: You're out on the golf course and using your phone as a GPS. Halfway through the round, the battery dies and you're left with the unbearable inconvenience of having to actually step off distances from the nearest sprinkler head.
The horror!
Fortunately, for every first-world problem, there's a solution.
The Anker Portable charger is a lipstick sized and shaped battery that can give your phone a boost when you need it most. As you can see from the photo, it isn't much larger than the phone itself (that's my Moto X for comparison).
The battery holds a 3000mAh charge, which is enough to fully charge my Moto X and then some. I now keep it in my bag for emergencies.
Recommended.