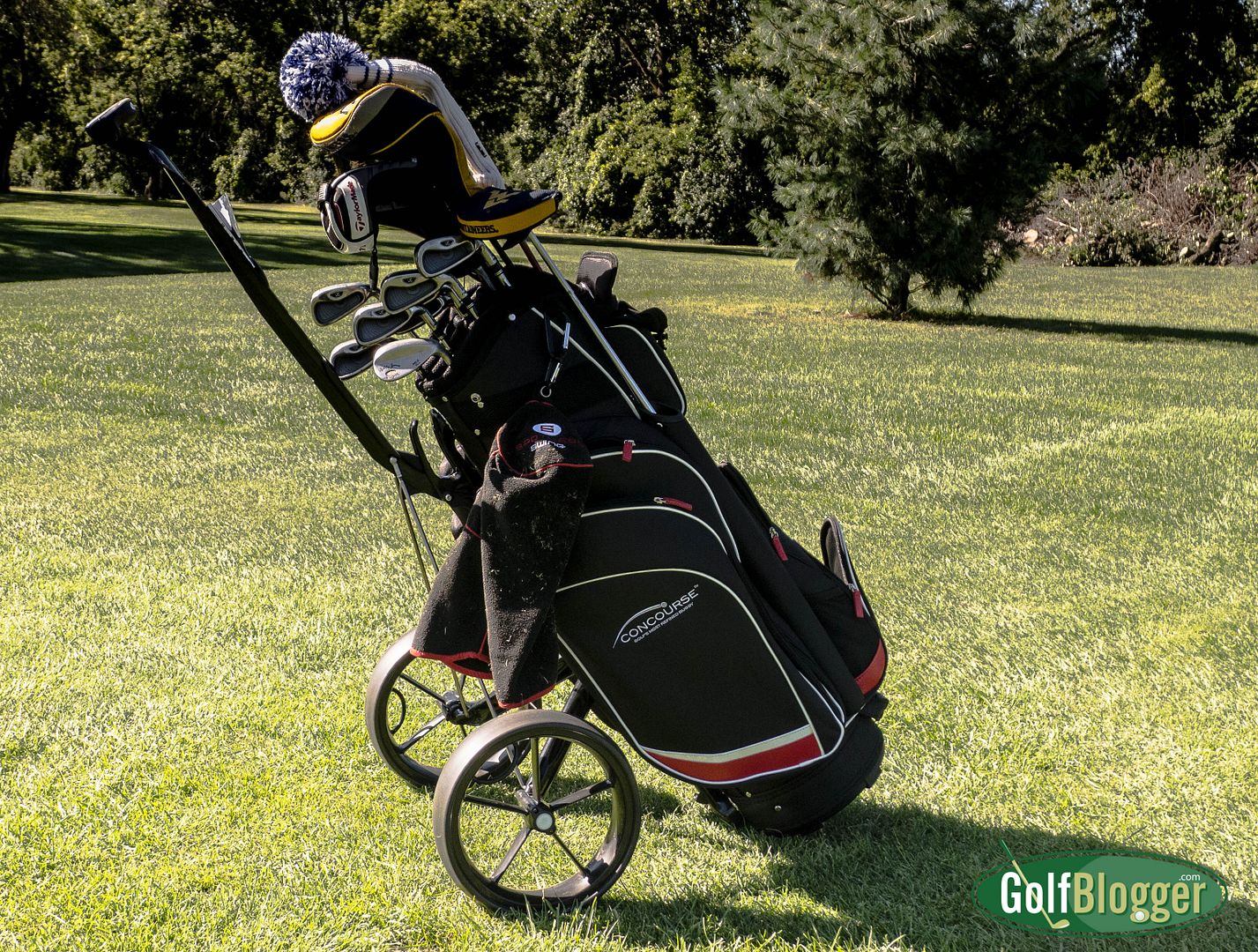 Concourse Golf Buggy
Grade: A+
Teachers' Comments: A perfect golf product
I have rarely seen a bit of engineering as simple and as elegant as the Concourse Golf Buggy.
Designed to work as a semi-permanent attachment to your bag, the folded Concourse unit weighs just four and a half pounds and adds only a couple inches to your bag's diameter. The removable wheels lock together and are stored in a nice little bag.

Setup is easier than any pull or push cart I have used: Set your bag on its base and flick one lever to unlock the handle. Pull gently upward to unfold the wheel axles, push the wheels on and you're ready to go.
Putting the Concourse away is just as easy: Tilt the bag up on its base and remove the wheels. Then flick a lever and the handle collapses back against the bag. Without detaching the unit from the bag, put the whole thing back in your trunk. Push the wheels together and twist to lock, then put them in the bag.
It is all so very fast and efficient—both of time and space. In fact, using the Concourse is like performing a magician's disappearing act. Now you see the full size cart … now you don't.
The best way to see how this works is to watch the video below. It really is that easy and that compact.
The buggy frame has a couple of other nice touches. There is a slot for a pencil, and another for a scorecard. There is also a hook for dangling things. It is supposed to be for a sand/seed container, but I hung a water bottle from it.
The Concourse buggy can be used as a screw-on attachment for a Concourse bag, or as a strap-on attachment for your existing bag. Both ways work very well, but the screw-on bag obviously is going to be marginally more stable. I say marginally because I had absolutely no trouble schlepping my usual bag around with the Concourse.
That said, the Concourse bag is functional, but nothing special—other than having screw holes for the semi-permanent attachment of the buggy. What I really hope is that the Concourse people can convince some other bag manufacturers to add Concourse screws to their products.
Barring that, perhaps Concourse can create a retrofit kit. Any designer who can create something as clever as the Concourse can no doubt create a retrofit. My idea is to drill a couple of holes in the bag, insert a mushrooming sleeve for the screw and then tighten with an allen wrench. It would work like a heavy duty drywall anchor.
I've been using the Concourse exclusively for about a month's worth of walking golf rounds. Compared to any other push or pull cart I own, it saves an enormous amount of space in the trunk of my Subaru Forester. I also love the easy setup and takedown.
Highly Recommended.