Dead Zero Putting Disk
Grade: A
Teachers' Comments: There is beauty in simplicity.
'Tis A Gift To Be Simple. It is easy to get caught up in flashy looks and feature creep, but I've found that in golf, the best training tools often are the most straightforward. Alignment sticks are a good example.
The Dead Zero Putting Disk is another.
The Dead Zero consists of an inch and a half high column of milled aluminum (I assume) half the diameter of a normal golf hole. The top is marked in glossy red and black circles, with white crosshairs. It's pretty hefty, and feels nice in the hand.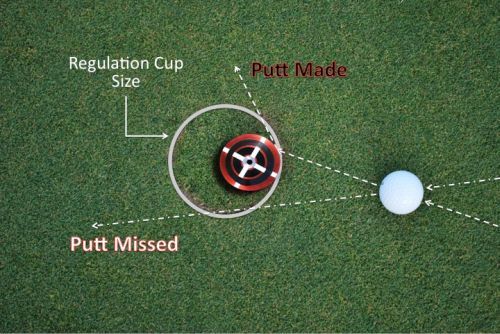 The notion behind the Dead Zero is that in becoming proficient at hitting the half-sized target, you will significantly increase your odds of hitting a regulation cup. It'll do wonders for your confidence.
I've practiced with the Dead Zone on the carpet quite a bit during this long winter, and I feel as though I've made some gains in my short range putts. That's important, because the latest data (from the new book, Every Shot Counts) shows that amateurs make only about 21% of their ten foot putts, and 51% of their five footers. Further, for amateurs, the most important putt is the four-footer, of which an 18 handicapper makes just 67%. Improving the four footer will significantly decrease your scores.
The Dead Zero comes with a nice little embroidered carry bag and a bulls-eye ball marker in the same paint scheme as the Disk.
Recommended.