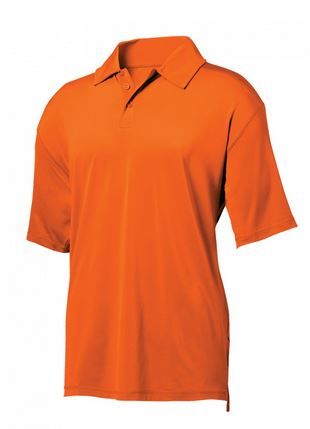 Grade: A
Teachers' Comments: very light and cool
Fila probably isn't a name many associate with golf apparel, but that is certain to change. Fila bought Titleist in 2011, and the golf apparel that they've sent me for testing the last couple of years has been terrific ( Fila London Waterproof Wind Jackst and Fila Jasper Textured Fleece ),
The latest for me from Fila is the Americano Golf Polo.
Fila's Americano Golf Polo is among the most comfortable I own. It is roomy without feeling baggy, and light without feeling insubstantial. I've worn it walking 18 holes on two of the hottest days of the summer and was impressed with how cool and dry I felt.
That cool feeling is a product of the recycled polyester moisture wicking fabric. As you sweat, the fabric draws the moisture to the outer layer where it evaporates. It is the evaporation that keeps things cool. The fabric has an antibacterial finish.
An understated Fila logo is on one sleeve. I like "understated" because I don't have an egotistical need to tell people that I can afford to sport Brand X, and I don't care to act as a walking brand billboard.
As is usual, I turned to Mrs. GolfBlogger, the semi-pro seamstress for her opinion on fabric and construction. Both were given her stamp of approval.
For the fans of green products, the recycled polyester which makes up 91% of the fabric comes from recycled pop bottles.
The Fila Americano comes in eleven colors. If you can't find one you like, you're too picky.
Here's my shirt in blue. I obviously have yet to figure out how to take apparel photos. I am certainly NOT going to take a selfie wearing a shirt. Perhaps I should find a mannekin at a yard sale.