Golf News Nov 12, 2022
In golf news this week are items from TRUE linkswear, ACE Indoor Golf, Cleveland Golf, Cobra Golf and Golf Forever.
TRUE linkswear Debuts All Day Pants
5-Pocket, Chino Editions Launch Apparel Line for Pacific Northwest Golf-Lifestyle Brand


The All Day 5-Pocket and Chino Pants feature classic silhouettes updated with modern touches. The 5-Pocket Pant embodies a denim profile with slim tapering, while the Chino pays homage to a classic trouser silhouette with an athletic cut and feel. Functional material caters to an active lifestyle without looking overly technical. The durable nylon material is stretchable, comes in a matte finish and is water and stain-resistant while remaining highly breathable for warmer days. These technically designed pants perfectly match all-day, all-season wear in any climate or condition.

All Day 5-Pocket Pant Features

Slim/tapered fit, 4-way stretch, abrasion resistant nylon, natural matte finish and feel, DWR water and stain resistant coating, highly breathable, concealed zipper cell phone/passport pocket, secure YKK back zipper pocket, elastic key loop, and high visibility reflective back cuff piping.

MSRP: $125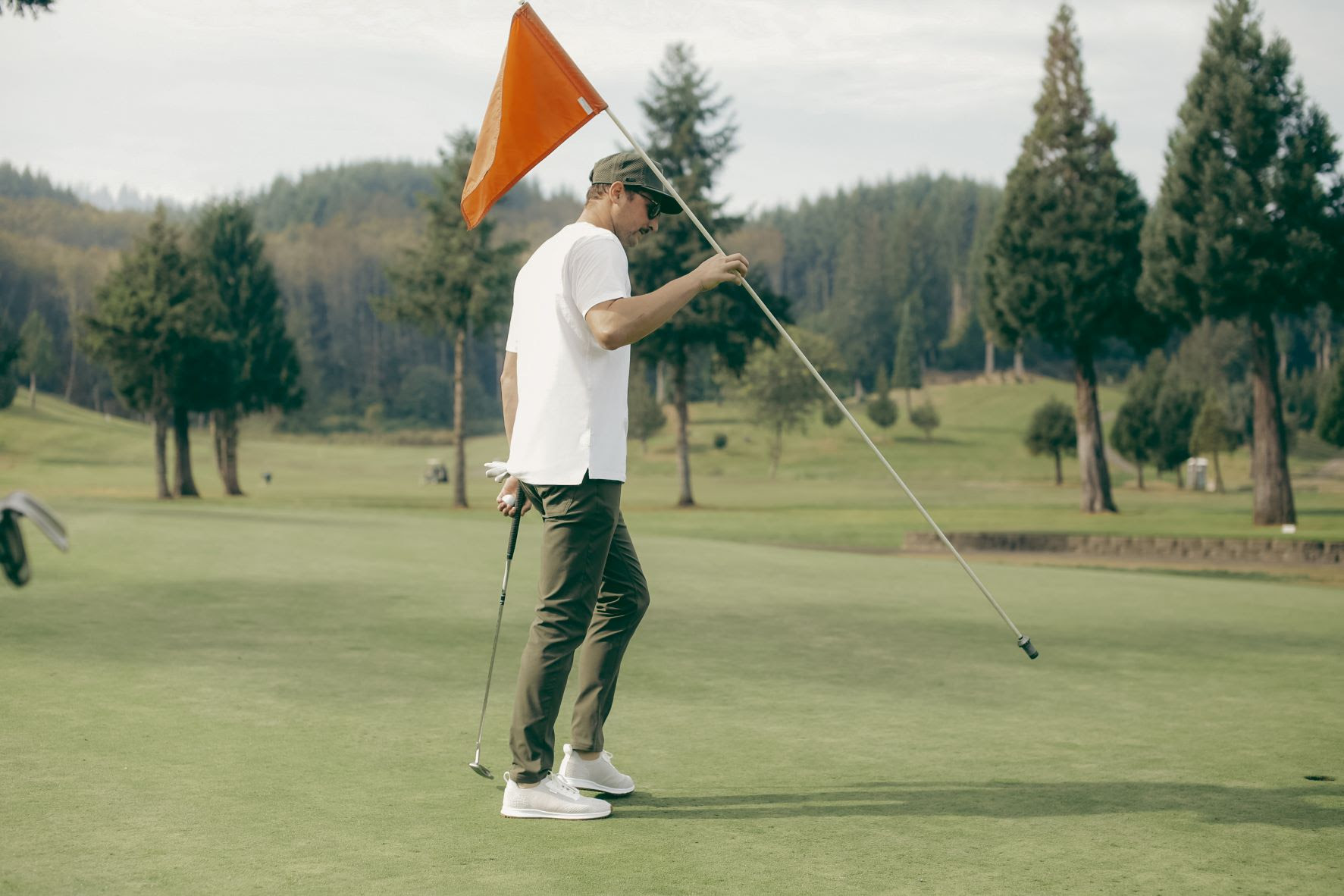 All Day Chino Pant Features

Slim/straight fit, 4-way stretch, abrasion resistant nylon, natural matte finish and feel, DWR water and stain resistant coating, highly breathable, cell phone/passport pocket, secure YKK back zipper pocket, elastic key loop, and high visibility reflective back cuff piping.

MSRP: $125
For more information: www.truelinkswear.com; @truelinkswear.
Ace Indoor Golf Instrumental in Five Iron Golf's Steady Growth
New Detroit-area Shelby Township location shows off bold design and engaging technology
Toledo, OH – Ace Indoor Golf, the industry's foremost builder, designer and installer of golf simulator hardware and technology, has strengthened its partnership with Five Iron Golf, the leader in upscale indoor golf destinations with a growing collection of locations across the country. Ace continues to bring its leadership, innovation and best practices to the simulator bay design and installation at all new Five Iron Golf locations.
Recently, Ace indoor Golf completed a multi-bay simulator installation at the new Five Iron Golf location in Shelby Township, Michigan while projects at several other forthcoming Five Iron Golf locations are underway. The 6,000 square-foot space features six TrackMan golf simulators, a full bar, putting green and a graffiti wall painted by local artist Desiree Kelly.
The Shelby Township is just one of a growing number of Five Iron Golf locations across the country to which Ace Indoor Golf will be lending its expertise and proven installation methods.
Ace Indoor Golf has spent two decades cultivating and implementing best practices in simulator room design and installation, taking quality control to level that includes hand-constructing simulator components like custom screens, wall padding and ceiling baffle kits from raw materials to expertly crafted components. Five Iron trusts Ace Indoor Golf thanks its proven ability to deliver safety, durability and sound construction at everyone one its unique entertainment venues.
The Five Iron Golf space is designed with guests in mind to enjoy the good vibes of golf and can be optimized to be the perfect entertainment space. It's also a golf oasis for all new and skilled players. The Tour-level technology gives golfers real-time feedback and analytics, such as ball speed, attack angle, club path, face angle and more, with nearly 100 world-renowned courses available to play virtually, as well as a dynamic range for golfers to practice on. Certified golf instructors offer private and group lessons for beginner and advanced players, and each lesson they give features advanced metrics and video analysis on TrackMan simulators.
For more information, visit aceindoorgolf.com and https://fiveirongolf.com/.
CLEVELAND GOLF ANNOUNCES NEW HB SOFT MILLED PUTTER LINE
The new line of putters provides a premium combination of features and technologies at an irresistible price point. HB SOFT Milled starts with each putter shape being cast in molten steel before the face and back are precision milled for performance purposes – the face for consistent distance and the back for a razor-sharp address view. Then, the sole is hand polished to an exacting tolerance before completing the process.
Featuring a refined Speed Optimized Face Technology (SOFT) which helps to alleviate the issue of distance control, SOFT offers model specific milling that normalizes ball speeds across the entire putter face for a pure, consistent roll regardless of putter shape.
Choose from any of the 10 tour-proven shapes and sink more birdies with premium steel, precision milling, and score-dropping face technology with HB SOFT Milled.
Key Technologies:
Milled Putter Heads: First cast, then CNC Milled for precise weighting and crisp lines. It's smarter milling that reduces waste for an attainable cost.
Speed Optimized Face Technology: Ensures consistent speed control and distance performance by normalizing ball speed across the face of the putter, now with a more responsive feel.
Stroke-Fit Alignment and Grip: Each shape features a specific alignment scheme and grip designed to fit the stroke of that putter.
Retail Information and Pricing
Pricing: $199.99 (Standard), $249.99 (UST Mamiya All-In Shaft)
For more information: ClevelandGolf.Com
COBRA GOLF LAUNCHES NEW VERSION OF ITS POPULAR T-RAIL HYBRID IRONS WITH NEW H.O.T. FACE TECHOLOGY
Carlsbad, Calif. (November 4, 2022) – Cobra Golf has released its third generation T-RAIL hybrid-iron combo set. The next evolution of T-RAIL is the latest COBRA product to debut H.O.T Face Technology that delivers next level ball speed and distance.  The new version continues to utilize a hollow, hybrid-iron shape with innovative Hollow Baffler Split Rail Technology, giving players an impressive combination of high launch, longer distance, and extreme forgiveness.
The latest innovation added to the T-RAIL product line is H.O.T Face Technology, an Artificial Intelligence design. The new face insert utilizes a variable face thickness pattern that is designed using AI and features multiple thickness areas that have been optimized to increase the Sweet Zone by 30%. The result is faster ball speed across the entire face to reduce distance loss on off-center hits. Additional improvements include thicker internal rib structures that were used to significantly improve both sound and feel at impact.
Each T-RAIL hybrid and hybrid-iron carries over its successful Hollow Baffler Split Rail Technology. The Baffler Rails, paired with the wide sole design allows the club to glide effortlessly through any turf condition so golfers can launch the ball high and straight more consistently. The front portion of the rails is fully hollow, which creates up to 70% more flex on the sole right behind the face to further increase launch and distance.
For more information on the new T-RAIL Hybrid Irons and all of COBRA's innovative products, visit www.cobragolf.com. 
GOLFFOREVER Partners with Folds of Honor
Leading golf fitness brand supports military families with promotions, video training, live events
Aspen, Colorado — GOLFFOREVER, the industry-leading at-home golf fitness training system that helps golfers play without limits, is thrilled to announce a new partnership with the influential and impactful Folds of Honor foundation; the renowned nonprofit organization that provides educational scholarships to the spouses and children of military members who have fallen or been disabled while serving in the United States Armed Forces. Beginning in 2022, Folds of Honor expanded its mission to include first responders.
GOLFFOREVER will publicize and support Folds of Honor in several ways beginning this fall, while building toward Folds of Honor-branded products in 2023. The top golf fitness brand will also produce motivational and exercise series with Folds of Honor Founder and CEO Lt Col Dan Rooney that will be incorporated into the GOLFFOREVER app and future Folds of Honor programs.
The GOLFFOREVER web site now features an exclusive Folds of Honor GOLFFOREVER Swing Trainer package (at golfforever.com/folds-of-honor/) priced at $219.99, with 20 percent of every sale going directly to Folds of Honor. Customers who purchase the package will receive a special Folds of Honor T-Shirt.
GOLFFOREVER will be participating in Folds of Honor events to share the benefits of the GOLFFOREVER Training System, starting with the Folds of Honor Cup on November Feb. 13., 2023 at Lake Nona Golf and Country Club in Orlando. Future plans also include an exercise and motivational series featuring Lt Col Rooney, who is a longtime fitness and wellness advocate himself.