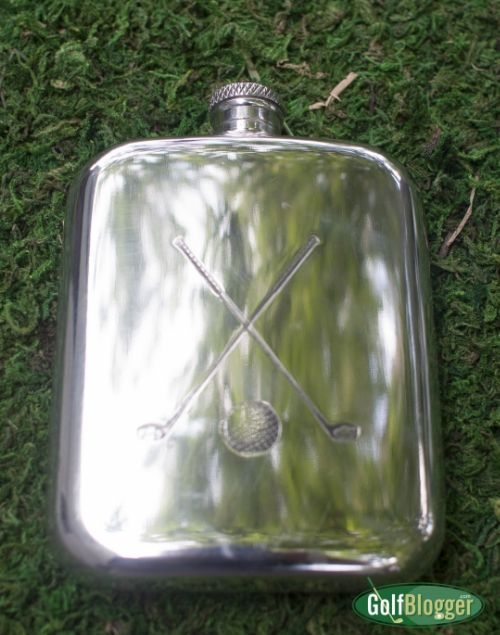 Golf Hip Flask From BuyAHipFlask.Com
Grade: A
Teacher's Comments: Looks and feels nice.
Let me say at the outset that I don't drink and drive. Nor do I chip, pitch, putt or hit shots from the fairway while intoxicated. My game is bad enough as it it.
On the other hand, I do play with guys who believe that their game improves as they "loosen" up with a few swigs of bourbon, whiskey (or even in one case, Baileys Irish Cream.). Who am I to judge?
This hip flask is definitely for the "I need to loosen up crowd." It looks great with its engraved golf logo and with its gracefully curved back, feels wonderful in the hand. The pewter flask holds 6 ounces of your favorite booze.
But don't put one of those candy flavored vodkas in it. A flask this nice deserves better.
The cap seals the liqueur in well. I tested it by filling the flask with water (I was not risking good bourbon) and letting it sit upside down for twenty four hours. No leakage.
The golf hip flask arrived in a nice little velvet pouch with a tiny plastic funnel. If you're going to buy one of these, I suggest that you splurge the few extra dollars and upgrade to one of the matching pewter funnels. The plastic one doesn't seem as though it would survive a trip through the dishwasher (and I'm not going to test it).
Although I don't drink on the course, I think this golf hip flask is going to be part of my standard travel gear. After driving out for some overnight golf excursion, it would be nice to have a flask of my favorite bourbon (Makers Mark) so I can enjoy a small glass without recessing to the overpriced hotel bar.