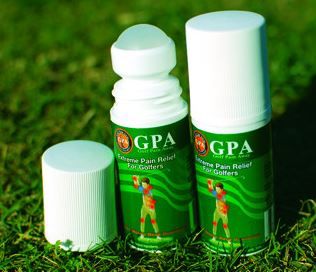 Golf Pain Away
Grade: A
Teachers' Comments: It gets Mrs. GolfBlogger's seal of approval.
On Amazon; Golf Pain Away Roll On, 50ml
I have over the last several years suffered through a variety of hip and back pains that have at time cost me several weeks of Michigan's short golf season.  To fix them, I've tried regular doctors, chiropractors, acupuncturists and a variety of creams and salves. Nothing really works, and I mostly just take it easy for a couple of weeks until the pain subsides. Thankfully, this season, I have yet to suffer such a setback. Knock on wood, but everything is fit as a fiddle right now.
So although I received the samples of Golf Pain Away some months ago, I have had no proper cause to test it.
But then Mrs. GolfBlogger crashed on her bicycle and badly injured her rotator cuff. The pain was such that she could not raise her arm above her head, and none of the usual remedies helped. Then I remembered that I had some Golf Pain Away stashed in the "to review" box at GolfBlogger World Headquarters. I retrieved it and she rolled it on.
The first thing she noticed is that it was not a menthol-based concoction. The second was that it worked. After a brief period, she was able to life her arm without pain. She reports the lotion to be slightly oily, but not unpleasant.
Golf Pain Away combines four ingredients: Olive Oil, Tea Tree Oil, Eucalyptus and Vanilla.
The Olive Oil helps the ingredients to penetrate.
Tea Tree Oil, from Australia has pain relief, antiseptic and anti-inflammatory properties. You see this used quite a bit now in various lotion products, and it is often suggested as a anti-fungal.
Eucalyptus, the favored food of Koalas, also is said to have pain relieving and anti-inflammatory benefits. The producers of Golf Pain Away say that the specific strain—the Blue Mallee—has trace elements that interact with the Tea Tree Oil in their manufacturing process.
Finally, Golf Pain Away contains vanilla extracts, which are supposed to provide circulatory benefits and act as a delivery mechanism.
In the right combination, and with the "triple maturation process," these ingredients work as well as prescription products, according to the manufacturer.
I don't know about any of that. What I do know is that Mrs. GolfBlogger says that it works.
Recommended by Mrs. GolfBlogger
FAQ from the manufacturer follows:
Some Frequently asked questions about Golf Pain Away
Q: How does Golf Pain Away work?
A: It seems to just have ingredients that you can buy anywhere Golf Pain Away does contain 4 everyday natural ingredients, but the product is blended using a very unique process, called Triple Maturation, which basically means there is a maturing process which takes place with several of the ingredients to enhance their potency. The end result is that you get a product that acts quickly to relieve pain but also lasts a lot longer than other products – typically up to 6 hours.
Q: Does it work on all forms of arthritis?
A: Yes, Golf Pain Away has proven effective on all forms of arthritis, including rheumatoid, osteo and juvenile arthritis, as well as gout and general undiagnosed joint pain.
Q: How effective is the pain relief?
A: The level of effect is always directly related to the level of pain. Mild pain will almost certainly be removed completely, whereas people suffering intense pain may only receive a reduction in their pain. Over a long period the use of Golf Pain Away may provide some freeing up of the joints which also helps.
Q: How often do I need to use Golf Pain Away?
A: It depends again on the level of pain. Generally twice a day but if the pain is severe you may need 4 or 5 applications.
Q: Is it possible to use to much?
A: No, Golf Pain Away is made from 4 natural ingredients and there is no risk of over-dosing. Of course you don't want to waste the product and a little bit does go a long way, so use sparingly but use often.
Q: How long will a bottle last?
A: The statistics shows the average user will go through one 50ml roll on every three months making the cost only cents per round.