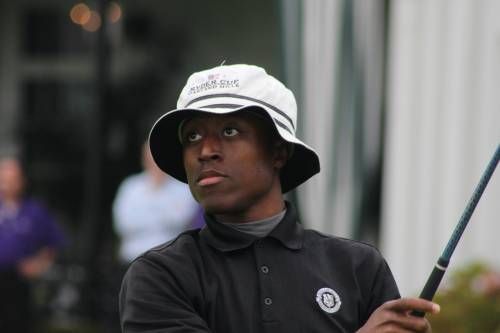 Joe Hooks of Commerce Township edged Michigan Amateur legend Tom Werkmeister on the second hold of a sudden-death playoff to win the Golf Association of Michigan Tournament of Champions at Oakland Hills' South Course on Monday.
Hooks, 21, is a student at Wayne State who played on the WSU team as a freshamn, but has not had a win since high school.
Complete press release follows:
Joe Hooks of Commerce Twp. Wins GAM Tournament of Champions in Playoff
BLOOMFIELD HILLS – Joe Hooks of Commerce Township topped Tom Werkmeister of Kentwood on the second hole of a sudden-death playoff to win the GAM Tournament of Champions presented by Preferred Data Systems at Oakland Hills Country Club's South Course Monday.
Hooks, a 21-year-old Wayne State University student who played on the WSU golf team briefly as a freshman, saved par on No. 1 from over the green with a deft chip and eight-foot save putt to force a second playoff hole.
Werkmeister missed the green long at No. 9, the second playoff hole, and missed a par-saving six-foot putt while Hooks played to par for the win.
Hooks and Werkmeister each shot 3-under 69 in regulation play, two shots better than Montague's Joe Balaskovitz at 71.
It was Hooks' first win since high school and junior ranks, and he said it was great to win at Oakland Hills and to escape the playoff with Werkmeister, a Michigan Golf Hall of Famer who earlier this summer won his sixth GAM Mid-Amateur title and reached the semifinals of the U.S. Amateur Championship.
"I was eating something after my round and looked outside on the 18th green and saw him, and thought, oh that's right, he's here," Hooks said. "I went to check what he shot and there was his name, sure enough, right by mine."
Hooks said his short game saved him all day.
"I hit only 11 greens in regulation and had 25 putts," he said. "I just kept saving pars and that turned out to be good in the playoff."
Werkmeister, whose final putt lipped out, was 4-under through nine holes of his round after a chip-in from off the front of the green at No. 9, but started lipping out putts across the back nine.
"I must have had five lip-outs," he said. "I'm playing well, hitting the ball great. I just had trouble getting the ball to drop on the back."
Eight golfers tied for fourth with 73s, including Scott Strickland of Birmingham, Ryan Johnson of New Boston, Brian Miller of Lake Orion, Brad Bastion of Shelby Township, Adam Anderson of Kalamazoo, Billy Nelson of Kalamazoo, James Piot of Canton and Matt Jankowski of Grosse Pointe Shores.
Jankowski had the shot of the day. He used a 6-iron the par 3 No. 9 hole from 204 yards and made a hole-in-one. It was his second, but first in competition.
Terry Delcamp of Grand Blanc won the Women's GAM Tournament of Champions on the North Course (see related story at http://www.gam.org).  A field of 144 men and women golfers played in the event on the North and South courses.
The tournament was open to champions of GAM member clubs and courses as well as winners of 2014 GAM championships, and ends the tournament season.
The GAM was founded in 1919 as the governing body for amateur golf in the state. As a not-for-profit organization, the GAM's purpose is to represent, promote, preserve, and serve the best interests of the game. The GAM provides membership to more than 60,000 golfers and more than 400 golf courses while conducting 19 amateur championships and 14 United States Golf Association (USGA) qualifying events.