Maw Grip
Grade A
Teacher's Comments: Neatly solves a real problem.
Here's the scenario: Having just missed the green, you pull two clubs from your bag—a seven iron for chipping and your putter—and walk to the green. Dropping your putter to the ground, you chip the ball up to three feet.
Then you pick up the putter to discover that the grip is soaking wet from the morning dew. Since you left your towel at the cart, there's nothing to do but wipe the water off on your pants—or your shirt.
I don't have that problem, because I walk nearly every round and I can push my cart right up to the edge of the green. Cart golfers will recognize the issue, though.
I've seen a lot of solutions for this problem, but the Maw Grip is probably the best.
The Maw Grip consists of a thin cell neoprene tube, closed on one end, and with a rubber gasket on the other (see photo, below). Before heading to the green, you just unclip the Maw Grip from your bag and slide it over your club's grip. The Maw Grip stays in place, and your grip remains dry.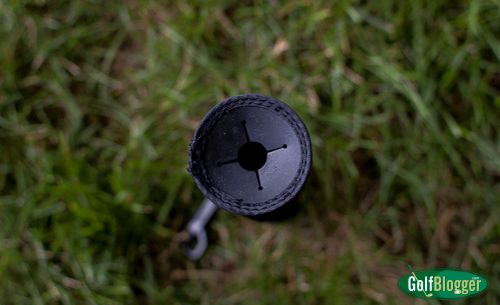 It is an elegant solution.
Recommended.