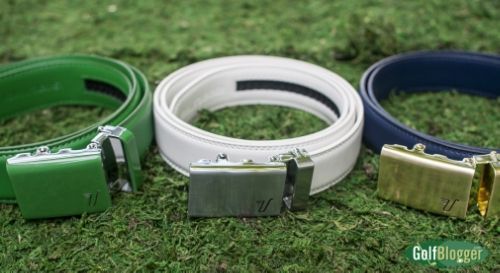 Mission Belts
Grade: A+
Teacher's Comments: Perfect fit. Perfect for golfers.
You may have seen Mission Belts on season four of Shark Tank. The company, which got an offer from Daymon John, sells a very clever "no holes" adjustable belt. Mission Belt recently sent me three of their "summer colors" belts for field testing.
Mission Belt's adjustability is made possible by a ratcheting buckle that locks into a row of plastic teeth that is embedded into the back of the leather belt. As you tighten the belt, the buckle automatically locks it in at quarter inch intervals. A small lever on the bottom of the belt releases the ratchet and allows the belt to loosen. It is quite clever and works exceedingly well. The belt won't budge until you hit that lever, but once engaged, it opens quite easily.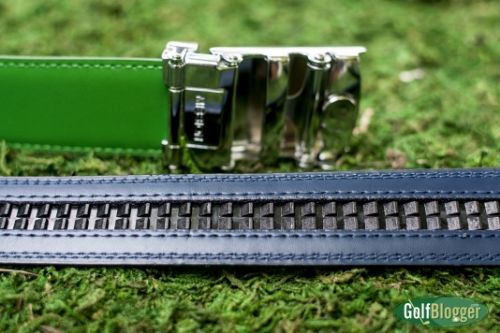 Mission Belts are a significant improvement in both looks and function over previous canvas military style adjustable belts. The leather and attractive buckles make the Mission Belt as much at home in the board room as on the course.
After wearing these belts for more than a month, I never want to go back to regular belts with holes. In fact, I'm going to need to purchase some Mission belts in more mundane and businesslike colors like brown and black. They're that comfortable. Goodbye to "a little too loose" or "a little too tight."
The comfortable, precise fit makes the belts great for the golf course. You can loosen them up a little before taking that big swing, and tighten them again to keep your pants from falling off when you're schlepping your clubs down the fairway. Again, say goodbye to "a little too loose" or "a little too tight."
I was at first worried that the buckle mechanisms, or the teeth would not hold up. But after more than a month of constant wear, neither of those is any longer a concern for me. These seem quite durable.
Mission belts are priced between $35 and $40, which seems to me an eminently fair price. Ordinary department store leather belts go for that much. They also come in a pretty incredible variety of colors, from staid black to eye popping orange. You are sure to find a belt—or two or three—that fits your purposes and personality.
Mission Belts gets its name from its "mission": One dollar of the purchase price of every belt goes to fund microloans through the website Kiva. To date, Mission Belt has made 8,000 such loans.
Recommended.