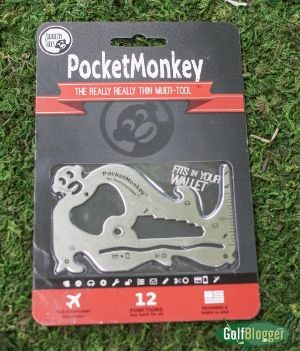 On Amazon: PocketMonkey
Grade: A+
Teacher's Comments: Quite handy
A Pocketmonkey is a stamped, stainless steel multitool designed to be carried in your wallet. It is the same size as a credit card in terms of length and width, and just slightly thicker (but only by millimeters).
The PocketMonkey contains 12 tools:
Bottle Opener
Flat screwdriver
Phillips screwdriver
Micro screwdriver
Phone Kickstand (insert a credit card into the wavy line at the bottom to make the stand)
6 Hex Wrenches
Orange Peeler
Door Latch slip (to open locked interior doors)
Earbuds cord wrap (although how this works in your wallet is beyond me)
Letter Opener
Metric and Imperial ruler
Straight edge
That's quite a bundle.
Further, this is all somehow TSA compliant.
This has found a permanent place in my wallet.
Heh. No man should be without a monkey in his pocket.
You can watch a video of the tool in action here.