Tervis Water Bottles
Grade: A
Teacher's Comments: Best water bottle I own
Many, many years ago, I was in Branson, Missouri where I saw a performance of of the Foggy River Boys, a country music and comedy act. At one point in the performance, two of them did a little skit. It went like this:
Boy 1: I think that the thermos is the greatest invention of all time.
Boy 2: Why is that?
Boy 1: It keeps hot things hot and cold things cold.
Boy 2: What's so amazing about that?
Boy 1: How does it know?
So that's what Tervis Tumblers and the Tervis water bottles do. They're double walled, and insulated and thus keep things at their proper temperatures. They seem indestructible and in fact come with an unconditional lifetime guarantee.
Nothing I've used has kept my water cool longer than the Tervis bottle. I fill it up with ice and water before a round, and midway through the round when I refill, there's still ice in the container.
Naturally, I have a WVU model.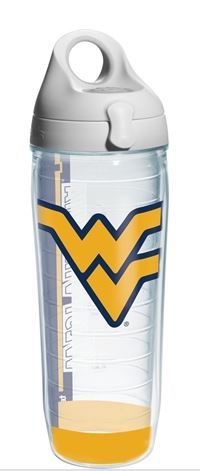 There are a lot of complaints on Amazon about the lids, but I just haven't had their problems. The only time it has leaked is when I haven't had the lid properly seated. It has taken a beating, falling off my push cart and once out of the car onto the asphalt. No damage.