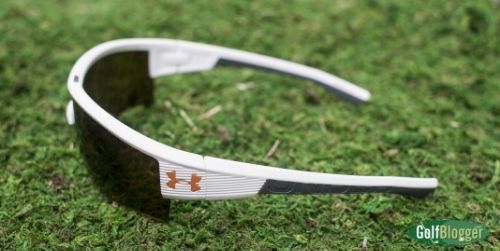 Under Armour Fire Satin Black Frame, with Charcoal Gray Rubber and Gray Lens
Grade: A
Teacher's Comments: Light, cool and comfortable. Ultra crisp lenses.
As a man with a largish head, I have trouble finding sunglasses that fit comfortably.
The UnderArmour Hunter Mahan Fire frames fit perfectly. The wrap around design sits comfortably on my face without feeling tight. I particularly like the way the nose clips are suspended on wires, which keeps most of the frame and lens off my face; it's cooler that way.
The frames are also very light. UA says that they're made from a combination of titanium and Grilamid for strength and flexibility. Grilamid is a nylon plastic.
I actually hardly notice these things are on.
One of the best things about these sunglasses is that the lenses are exceptionally crisp. Even without my regular prescription, I feel as though I see better when these are on.
UnderArmour says that the lenses use "ArmourSight" technology to deliver 20% more undistorted peripheral vision. They block 100% of UVA, UVB & UVC rays.
Best of all, they're pretty reasonably priced. A pair is just $99 on the UnderArmour website.
Recommended.
PS. For your daily dosage of cuteness, here's Ashley Cat posing with the glasses. I noticed that her colors matched the black, white and orange of the glasses: