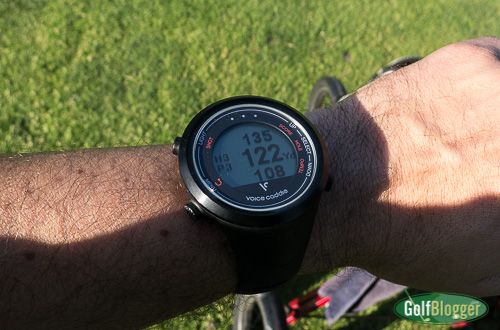 Also available on Amazon: BRAND NEW 2014 VOICE CADDIE TI HYBRID GOLF GPS WATCH -BLACK
Grade: A
Teacher's Comments: I love this gadget
The Voice Caddie "Hybrid" GPS Watch now occupies a permanent spot in my golf bag. That's a big thing because I've got a lot of golf equipment that never sees the light outside of GolfBlogger World Headquarters, and only the best makes the traveling show.
As a GPS Rangfinder, using the Voice Caddie Hybrid is simplicity itself. Just push the mode button, select Play Golf and wait for the watch to find the course among the 30,000 in the database. As you move from one hole to the next, the watch picks up the transition and switches automatically. Once in play, there's nothing to do but look at the watch to get distances.
Distances shown on the unit are to the front, middle and back of the green. It doesn't show distances to hazards or the shapes of the holes or greens like more complicated units. But that's ok. since I use it primarily on my home course and other familiar tracks where knowing the distances to the green tells me all I need to know.
I've found the distances to be consistent with my Garmin, which in turn I've found to be consistent with my Bushnell laser rangerfinder. Because it's a watch, and running "in the background," so to speak, I've found using it much faster and more convenient than either of those other options.
As you might expect, the Voice Caddie watch can be used to track individual shot distances. Setting this is as simple as pressing one function button. Keeping score on the watch is similarly easy. If you use it to keep score, the watch will remember the dates, course names and scores.
One interesting feature is that the Voice Caddie watch measures swing tempo. It can be set to automatically report back to your back-to-forward swing ratio. Some coaches say that a 3:1 ratio is ideal, but there's no way for anyone to know what their real number is. The Voice Caddie tells me that I have a lot of work to do. I'm way too fast on the takeaway.
I was initially concerned that I would not be able to play while wearing the watch, and planned to hang it from a belt loop. As it turns out, I really don't notice it. I just push it up my forearm a little bit before address to make sure it clears my wrist.
The "hybrid" in the name refers to the fact that it also can be used as a general sports watch. The Voice Caddie GPS Watch wll keep track of your speed, distance and calories burned while walking, running or cycling. You can also set it to track your walking distances while you play golf.
I appreciate this function because I like to get out to walk for exercise. I walk quite briskly around the neighborhood four to five times a week, getting in four miles in about an hour.
And oh, yeah. It also functions as a regular watch with an alarm.
The watch's rechargable battery lasts for about two rounds. It has a recharging unit that consists of a big plastic clip that clamps onto the watch. The other end is a standard USB plug.
I find just two small faults with the watch. The first is that it is a little slow to initially pick up the GPS. I've found, however, if I start it up when exiting the clubhouse instead of on the first tee, everything is fine. The second is that it is a little too big. I'm sure Voice Caddie made it as small as possible with the GPS, the accelerometers, and all the other functions. But it is still a little chunky.
Nonetheless, this is a great piece of equipment, and one that I recommend.