One of the things that most impressed me about the Crowne Plaza Invitational was that it was as much community and social event as golf tournament. Everywhere you looked in Fort Worth, there were banners hanging from street lamps and signs in store windows. Shops were running "tournament specials." Free newspapers in boxes around the downtown had special tournament issues. Crowne Plaza Invitational ads greeted travelers at the airport.
On my shuttle rides to the course, I saw that other businesses also were in the spirit of the moment. Mayor Moncrief said that one of the main buildings in the city had changed its light colors for the event.
In Sundance Square in downtown Ft. Worth, Crowne Plaza had—along with Nike, Cadillac, the Ft. Worth Star-Telegram, the Texas Rangers, and Michelob—set up a fan faire, with live bands, food and drink, putting and driving contests, Cadillac test drives and a jumbotron for watching sports (at night, they had Mavericks games on). Elsewhere downtown, other bars and clubs had special music and entertainment.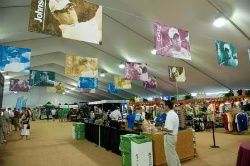 Inside the tournament, the folk at Colonial and Crowne Plaza clearly had put a lot of thought into offering a variety of experiences. Between the ninth and tenth fairways, and just off the putting and chipping areas, there was a huge tent (photo right) that contained a tournament shop, the Travelers chipping challenge, Bridgestone ball fitting, Nike demo area and other activities.
GE had an area where you could get your golf swing analyzed, compare it to Jim Furyk and Sean O'Hair (God help anyone whose swing matches Furyk's), and then share it with your social network. You also could have your body composition assessed with a portable GE devive. Finally, You could participate in an interactive golf quiz. Information also was available on exercise, stretching and nutrition.
Geico had giveaways, a putting challenge and the opportunity to have your photo taken with a golf pro cutout on a green screen. Nature Valley was giving away snacks.
At other locations there were Cadillac displays (with hat and towel giveaways), a recycling exhibit (where you could recycle old phones, with the donor of the "oldest" phone winning a new BlackBerry), Ahead sporting goods store, a Nike store, and innumerable food and beverage booths. Interestingly, it seemed that the vast majority of the food and beverage stops were run by volunteers from local high school sports teams and music groups. A portion of the profits presumably went to those groups. That was another nice way to ensure community "buy-in" to the event.
Kodak had a strategically place tent where people could get their photos taken with the clubhouse and 18th hole as a backdrop. They'd then print the photo and give you a couple of souvenir copies. The one they took of me and Mrs. GolfBlogger is one of the better casual photos we have of us as a couple. I absolutely loved that venue.
Just right of the 10th fairway was the Henry House Hideaway—a skybox for kids, stocked with complementary lunch, activities, t shirts and a front row seat for the youngsters. It was sponsored by JJ Henry, a TCU Alumni. Very special
Also near the 10th was the Crowne Plaza Lounge, an enormous tented area over tennis courts that contained food service, a jumbotron, a GolfSmith exhibit, ESPN and ESPN Radio booths, contests and more. It was a terrific place to sit down and get out of the heat while still following the tournament. There was lots of socializing going on there. No tournament should be without a couple of these.
On the Monday before the tournament, Nike and Radio Disney hosted a free kids golf clinic.
For autograph seekers, the tournament had set up a couple of areas near the clubhouse that reminded me of Lucy's doctor's office, or an old fashioned kissing booth. The pros could stand in the booth and sign for as long as they wanted, then retreat without fighting the crowds back to the clubhouse. Ricky Fowler was there for the longest time.
And, of course, you could watch golf. There were bleachers near twelve of the eighteen holes (more than I think I saw at other tournaments), and eleven very large electronic scoreboards that kept fans updated not only on the leaderboard, but also on individual players' progress. Across the bottom of the screens were a stream of on-site tweets from the tournament's brigade of Tweet Caddies.
It was a lot to take in, but as IHG Senior Media Relations Manager Caroline Counihan told me: "If people are going to be here for four days, there's got to be stuff for them to do."
The only thing they were missing was a ferris wheel and a petting zoo.
I've attended several professional golf events—the Kemper at Avenel, the PGA Championship, the Ford Senior Open, the Buick Open and the LPGA's Jamie Farr—and in none of these do I recall seeing the combination of community commitment and on-grounds activity that I saw with the Crowne Plaza. The PGA Championship at Oakland Hills was much bigger in terms of on-course venues, but I didn't get the sense that the whole Detroit metro area was involved. I'm interested in hearing from others who attend golf tournaments in different parts of the country to see if they have enjoyed such an immersive experience.
There's a lesson here for the would-be organizers of any PGA Tour return to Detroit (rumored for 2013): The event has to be more than four rounds of golf. If any of the Detroit organizers are reading this, I'm available for consultation with ideas and observations. I've got a notebook full of them.