Grade: A
Teacher's Comments: Keeps you dry and cool.
I am old enough to remember when polyester first became a "thing." Those original clothes were so creepy feeling to me that I swore I would never let the stuff touch my body.
Materials science has come a long way since then and this nothing-but-natural-fibers guy has become a convert to the new synthetic fabrics. Many of them feel as nice as natural fabrics, and they add additional benefits, such as moisture-management, odor resistance and UV ray blocking.
Garmatex adds a completely new dimension with the infusion of jade minerals into the fabric.The theory behind the technology is that the minerals "activate" when in contact with moisture (sweat) to reflect the sun's rays. This is supposed to reduce the ambient temperature up to 10 degrees.
Garmatex's fabric also is moisture wicking, promoting evaporation. Finally, Garmatex says, the fabric has a dot-matrix pattern that is designed to further increase evaporation.
I got this shirt rather late in the season, but still had a chance to test it on a couple of relatively warm days. My verdict is that it works as advertised. It is quite cool, and in the high summer, I imagine it would be just the thing.
The IceSkin golf shirt has perhaps more slim cut than I would prefer, but it was still comfortable in the swing. The shirt actually stretches quite a bit.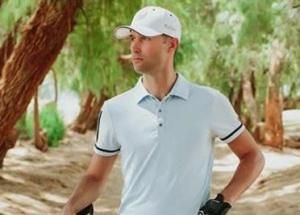 I've also (experimentally) tested the IceSkin shirt as a primary layer on a couple of cool golf outings. In that, it works wonderfully. One of the biggest problems with staying warm is getting cold and clammy from body moisture. The Ice Skin shirt did an admirable job of keeping me dry as I hiked around the course in my warm outer layers.
I think Garmatex should use their tech to make a long-sleeve base layer.
The company also sells an Ice Skin towel that works on the evaporative cooling principle. You get it wet, and the surface temperature feels as though it drops dramatically. To stay cool, just hang it around your neck.
Garmatex has a good thing going with the IceSkin produuct line