Glen Dornoch
Little River, South Carolina
Grade: B+
Teacher's Comments: An intercoastal links? A woodlands course? Not sure, but it was fun.
Built along the Little River, Glen Dornoch offers a nice variety of challenging holes. The river makes an appearance on four holes, but water or swamp come into play a total of twelve times. (You could argue that the river is on a fifth hole also, but there's so much swamp between you and the water I don't think that it counts).
Pot bunkers are scattered throughout, as well as some large waste areas. The fifteenth has one of the most evil waste areas I've seen, stretching across the entirety of middle of the fairway, with an enormous tree planted in the center.
Most of the holes are straight-ahead affairs; only four are doglegs. Shotmaking is at a premium, as players must correctly gauge the yardage and angles to avoid the bunkers, waste areas, swamps and water that frequently encroach upon and cross the fairways.
Adding to the interest at Glen Dornoch are a couple of holes with some surprising elevation changes for a region of coastal flats. Thirty five feet doesn't seem like much for some courses, but here it really adds to the challenge.
All of this makes Glen Dornoch a tough course. From the back tees, it measures 6,890 and plays to a 73.2/145. From the men's middle, it measures 6,035 and a 70.2/127. I played well, but only because played from the proper tees, iit requires more thinking and strategy than length.
Promotional materials for the site—as well as the name—suggest that the course is an homage to Donald Ross. I think that may be taking things a bit too far, but the pot bunkers and undulating greens do suggest a similar DNA. The ninth and eighteenth share a green, and the fourth is definitely a redan. There also was a bit of wind along the intercoastal, and it definitely did come into play on a couple of holes.
The eighteenth at Glen Dornoch is one of the best holes I've played. You can see an image from the course yardage book below. I love the options this hole offers (photo is at top of page).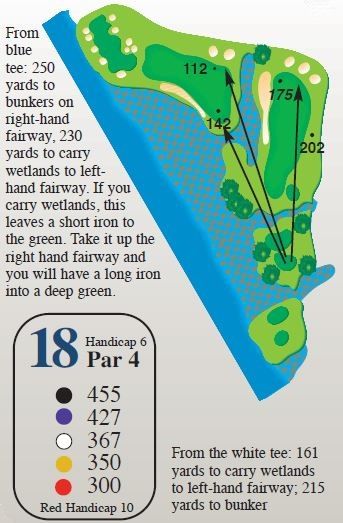 Conditions on the day I played were ok, although I am not sure how it would rank in relation to other South Carolina Courses. Compared to the other Myrtle Beach course I played—the Barefoot Landing Greg Norman Course—Glen Dornoch was in great condition. But compared to a good Michigan resort course, it wasn't quite up to par.. Greens and tee boxes were well kept, but there was some fairway damage—mostly from dampness, I suspect. That is to be expected, though, in a course that runs through swamp.
This is a course that I would definitely play again if ever I were to return to South Carolina.