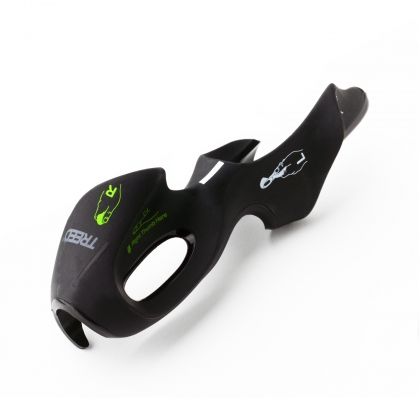 http://golf-grip.com/
Grade: A+
Teachers' Comments: Beginners and high handicappers should definitely get one of these
A great golf swing begins with a solid grip. If you don't get the grip correct, there is very little chance that anything else will work properly.
Every golf lesson I've ever had began with the pro evaluating my grip. And every time, the analysis has been that my grip had slipped a little from the optimal. Fixing the grip nearly always results in immediate improvement.
Aside from hands-on work with a pro, the task of learning and maintaining a golf grip traditionally has fallen to the molded rubber training grip. These have issues, though. First, they are stuck to whatever training club you're using. The feel will be different from your regular sticks and you can't easily switch from driver to mid iron to wedge. Second, the grips typically are bigger in diameter than regular grips, which creates a transference problem. And finally, they teach only a single grip style. If you use the Vardon, you're usually in good shape. But if you use an overlap, you could be in trouble.
The Golf-Grip is an interesting new product that seeks to address those issues. Molded from a thin, but seemingly durable plastic, it slides over your club's shaft and up onto your regular grip. You can start your practice session with one club, then easily slide the Golf-Grip off and onto another. It literally takes only a few seconds.
Because the Golf-Grip uses your regular grip as its foundation there is virtually no difference between your grip with the trainer and your grip on the course. Golf-Grip's open design and thin molding make the device barely noticeable. Transference is easily accomplished.
Another interesting feature of the grip is that it is designed to accommodate the baseball, overlapping and interlocking grip styles. The molded finger guidelines are very cleverly done.
My initial thought was that the plastic grip mold would slip out of place during a full swing and impact. That hasn't been the case. It flexes easily over my regular grips and then stays put. Strangely, it is still quite easy to slide off for use on another club.
The portability of this device is another plus. You won't look like Roy McAvoy when practicing with the Golf-Grip.
I really like this product, and have been thinking about passing it on to a golfing friend whose grip could use some serious rehabilitation (it may be the worst I have ever seen). But I don't want to part with it because my own grip often needs a tune up.
The only negative I have is purely aesthetic. I wish the company had come up with something other than Golf-Grip for a name. It is hard to write about a golf grip training product called golf grip, especially when the Golf-Grip is designed to go over the golf grip.
Highly recommended.
.