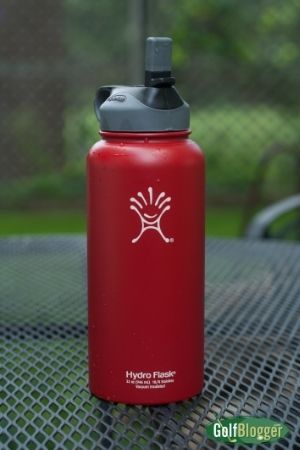 On Amazon:
Hydro Flask Insulated Stainless Steel Water Bottle
Hydro Flask Straw Lid for Hydro Flask,Grey
Grade: A
Teacher's Comments: Perfect for my needs. Big. Tough. Effective.
I don't think it is possible to overstate the importance of staying hydrated. As your body heats up, it cools itself by sweating. But with that water loss comes the build-up of toxins, fatigue, muscle cramps, and light-headedness. Because your nerves also need water to function properly, you may experiences shakes.
None of this is good for your golf game. Worse, dehydration can be life threatening. As a Scout leader and outdoorsman, I have seen people carted away in rescue vehicles due to heatstroke which may have been avoided with proper hydration.
When on the course, I have always carried a big reusable stainless steel bottle with a sport cap that I bought at REI. Before leaving the house, I would fill it with ice, and a little bit of water, and the water would stay cool as the ice melted—at least through the front nine. By the back nine, the ice would all have melted, and I would just hope that the on-course water was cool. Tepid water is just unpleasant.
Further, some studies have shown that cooler water is easier for the body to absorb.
I realize, of course, that an insulated Thermos would be the obvious solution. I have not, however, seen one on the shelves that struck me as particularly durable.
Then, I received a 23 ounce Hydroflask in the mail for review. It fits my needs exactly. Coincidentally, it was the same size as my single walled steel bottle.
The Hydroflask is constructed of vacuum-insulated, double-walled, food grade stainless steel. The outside has a powder coat that gives it a bit of a grip without feeling rough. It is very solidly constructed and has already weathered several drops out of my golf push cart without a dent or scratch.
I also very much like the matching flask straw lid. Like the bottle, it is very solidly constructed. Hydroflask backs its products with a lifetime warranty.
Hydroflask's insulation works to perfection. I fill half the bottle with ice before heading to the course, and after one or two refills, there is still a quarter bottle of ice in the bottom at the end. As an experiment, I left the bottle filled with ice in my car in the sun for a day, and there was still half a bottle of ice left the next morning.
Absolutely no sweat appears on the surface of bottle. It's that well insulated.
Most importantly, the Hydroflask makes drinking more pleasant, which means that I will be more inclined to consume enough on the course to keep me healthy and my game steady.
Hydroflasks come in a variety of powder coated colors as well as classic stainless steel. Since receiving mine, I've also spotted them in a couple of pro shops with course logos.
Finally, Hydroflask has a program called 5% Back in which Hydroflask lets you choose a charity to receive 5% of the net profits on the purchase of your bottle. I see that they support Adopt-A-Classroom, which as a teacher I appreciate.
Hydroflask gets a strong GolfBlogger recommendation.