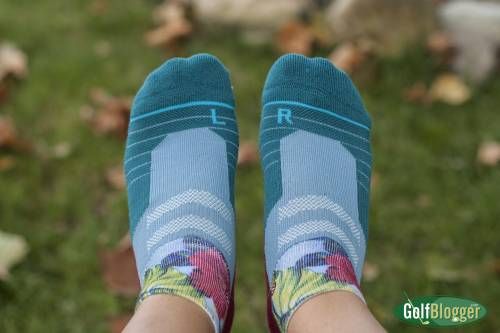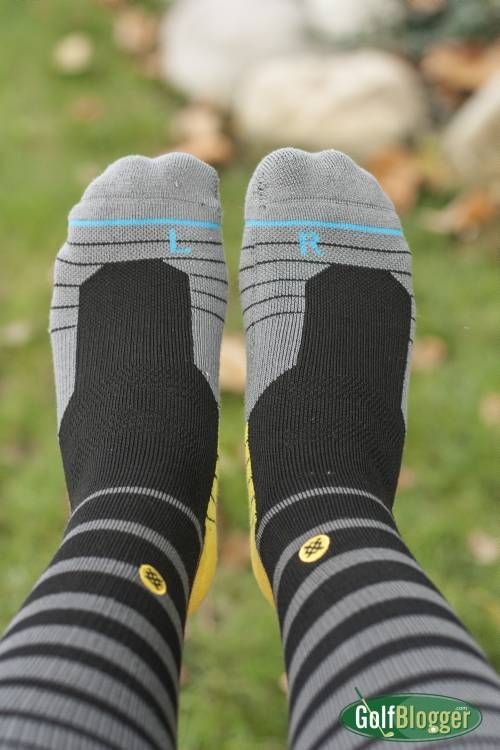 Stance Performance Golf Sock
Grade: A
Teacher's Comments: A little too edgy in design for my own tastes, but the fit and feel is wonderful.
I walk virtually every round I play, so over the years, I have become a connoisseur of comfortable, properly fit shoes and socks. Hiking thirty six holes in a single day does not even begin to phase me—so long as the dogs are happy.
The best socks fit snugly so they don't slide and cause blisters; have cushioning on the heel for impact; and wick moisture to keep the foot dry (and again, blister free).
Stance's performance golf socks meet all those criteria—in spades.
Both the high and low versions I tested fit snugly without feeling tight. Clever design, such as deep heel pockets, elastic arch support and a seamless toe, combined with the spandex content keep the socks from sliding around. The socks also feature "managed compression," which I did not notice in the short socks, but was very noticeable in the calf-length ones. I may actually wear these the next time I go on a long plane flight. I think they could help to keep my legs from stiffening.
Cushioning is just right, with the heel area feeling nice and soft.
Finally, the Stance Socks keep my feet feeling nice and dry. That is important not only for immediate comfort, but also for preventing blisters.
I like these socks a lot, but I just wish they came in a more plain-Jane option. To paraphrase The Big Bang Theory's Sheldon Cooper: In an infinite number of universes with an infinite number of GolfBloggers, in none of them am I wearing socks with flowers.
Ok. Maybe occasionally. Like in the Bahamas.