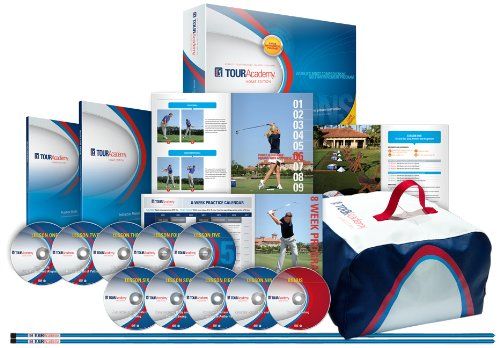 TOURAcademy Home Edition 8-Week Total Golf Improvement Program
Grade: A
Teacher's Comments: A complete lesson package. You get a lot for the money.
We have entered a brave new world of education. When Thing One and Thing Two—my teen age boys—want to learn something, they surf to YouTube or the Khan Academy to watch instructional videos over and over until they think they understand the process. Then they try it on their own. If it works, all is to the good. If not, they watch another video to see what they've missed. On the rare occasions I am called in, it is only to evaluate the end result.
As students become increasingly resistant and hostile to the notion of mastering reading and comprehension, this is (sadly) the future of education.
The TourAcademy Home Edition fits into this new educational paradigm. The Academy's "students" watch a series of video instructions, then are sent out to practice according to prescribed drills. If it works … excellent. If not, students can go back to rewatch the lessons. Players can also revisit any lesson at any time for a refresher.
At the heart of this—as you might expect—is video instruction. The Tour Academy has a total of ten DVDs covering:
Lesson 1: The Set-Up – Grip, Posture, and Alignment
Lesson 2: Rolling It – The Essentials of Putting
Lesson 3: The Impact Zone – Educate the Hands
Lesson 4: Learning Small Swings – Chipping
Lesson 5: Developing Body Motion – The Pivot
Lesson 6: Mastering Intermediate Distances – Pitching
Lesson 7: Synchronizing Body and Club – The Full Swing
Lesson 8: Power and Distance – Driving with Authority
Lesson 9: Specialty Shots – Lob and Bunker
Bonus DVD: Troubleshooting – Ball Flight Laws, Tips, and More.
The videos consist of a instructors from the TPC Sawgrass TOURAcademy in Florida who methodically work through every step of the golf game. Their instructions and demonstrations are very clear and understandable. The camera work and sound are excellent.
If that's all there was, however, Tour Academy would be little different from the tips shows on Golf Channel. The distinction is that Tour Academy is organized into a two-track, eight week curriculum. The white track is for beginner and mid level players, while the blue track is for the advanced player. The practice schedule is set into a practice calendar and small practice guide, which lays out exactly which segments to watch, and which routines to practice. Some segments are very specifically blocked in; others can be practiced in a more random fashion for challenge and intereste.
The set also includes an instructional manual with a spiral binding to allow you to take it to the course.
Finally, the boxed set comes with alignment sticks and an impact bag for practice.
TourAcademy Home edition is a very well produced and organized system that I think could benefit a wide range of golfers with a wide range of abilities. I've watched the entire series and think that the TourAcademy does a great job of explaining and demonstrating the fundamentals. I've been playing for quite some time, and have read many dozens of instruction books, and still found more than a few things to take away.